SRJC Student Housing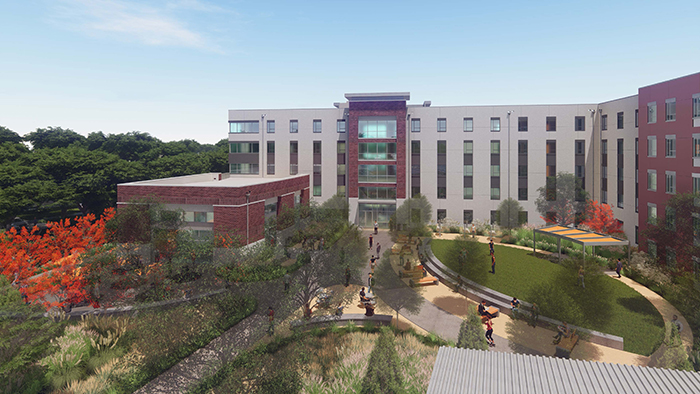 To support its academic mission and the student community, Santa Rosa Junior College is in the process of building affordable and sustainable student housing on the Santa Rosa campus. When complete, the project will house 352 students and contribute to mitigating the Sonoma County housing crisis. 

SRJC Student Housing Leasing Office is OPEN!
Stop by to learn more details about SRJC student housing
Location: 1950 Armory Drive, Santa Rosa, CA 95401 - Room 1002
Hours: Mon-Fri 9 am-5 pm.
Phone: 707-535-3778
Contact: Romario Atkinson ratkinson@servitas.com
The application fee is $35.00, which is due upon completion of the application.
Note: Students may defer this fee. While students are responsible for the fee, it does not need to be paid immediately upon application submission.  The names and ID numbers of the students requesting a deferral will be kept and the $35.00 fee will be charged to their SRJC account when classes, housing, and other charges are paid. 
Applications will begin to be approved after the winter break. Once the application is approved, a license agreement will be sent and must be signed. The housing office will approve license agreements as soon as they are signed and that will confirm that the student has a guaranteed spot. License agreements will be periodically reviewed in the Spring semester to confirm students are still enrolled at SRJC and qualify for housing. Room assignments will be forthcoming. Prior to receiving a housing assignment, the student will need to ensure they are registered for Fall 2023 classes and have sufficient resources to cover costs. 
 
BENEFITS OF AN ON-CAMPUS STUDENT HOUSING EXPERIENCE:
Walk to class
Student-success focused activities
Fully furnished
All utilities included
Free Wi-Fi
Laundry – on-site and at no cost
$0 for credit check or deposit
Study Rooms
Educational and social programs
Grants and scholarships available
FULLY FURNISHED AND ALL UTILITIES INCLUDED RENTAL COSTS (per month):
Residence hall with a roommate (double) - $990
Residence hall private room (single) - $1240
Two private bedroom/two private bath (deluxe single) - $1550
Apartment for 6 with four bedrooms and two bathrooms; shared living room & kitchenette - $1650 and $1750
Fees are per bed, not including grants and scholarships (available to qualifying students).
More information available on the Housing FAQs
 
STUDENT HOUSING PRIORITY POLICY
On-campus housing at Santa Rosa Junior College is limited and in high demand. Accommodation will be offered on a priority basis, and then on a first-come, first-served basis. The Housing Office highly recommends students submit their housing application as soon as possible to increase their chances of obtaining a space.
 
---
The project has been guided by four (4) strategic objectives:
Affordability for Students
Sustainable Facilities & Practices
Focus on the Student Experience
Use of Local Labor & Delivered On Time